Free Point of Sale App for WooCommerce
FooSales is a free point of sale (POS) system for WooCommerce that turns your computer, iPad or Android tablet into a cash register making it easy to sell your products and accept payments from anywhere!
Get started, it's 100% free!
Customer Management
Customer profiles
Customer profiles are automatically created with new orders. Learn more about your customers and their shopping habits and view contact info and order history at a glance.
Synchronize online and retail customers
Customer information is synced with your WooCommerce store so their order history can be referenced or tracked – no matter where the order was originally placed.
Email marketing
Capture email addresses at checkout to notify your customers of upcoming sales or new product launches with the WooCommerce MailChimp plugin.
Checkout
Mobile cash register
FooSales offers built-in support for the ultra sleek Star mPOP™ combined Bluetooth POS receipt printer and cash drawer device.
Coupons and discounts
WooCommerce coupon codes are supported at checkout (requires an active Internet connection for validation) and discounts can be applied to individual products.
Shipping
Record a customer's shipping address and contact details for a particular order so that you can ship it at a later date.
Custom emailed receipts or printed invoices
WooCommerce order receipts are automatically sent to customers when a order is processed and invoices can be printed using an AirPlay (iOS only) or wireless compatible (Android) printer.
Taxes
Taxes are automatically calculated based on your store's WooCommerce settings.
Store management
Refunds
Issue on-the-fly refunds for previous orders to the original payment method.
Order history
Find and view past orders by customer or product.
Daily totals
Keep track of daily totals for each payment type.
Payments
Complete orders as cash or card
Manually process payments using a third-party card machine and complete the order as "card' or "cash".
Accept offline orders
Orders placed when you don't have internet access will automatically sync with WooCommerce the next time you're online.
Products
Filter by category
Organize products by category or simply search for the product name or ID.
Inventory management
Manage your entire product inventory with WooCommerce and FooSales. Keep track of stock quantities and automatically stop selling products when inventory runs out.
Barcode scanning
Scan any standard 1D barcode through the built-in barcode scanner in the app or a compatible Bluetooth scanning device and FooSales will identify a product with a matching SKU or product ID.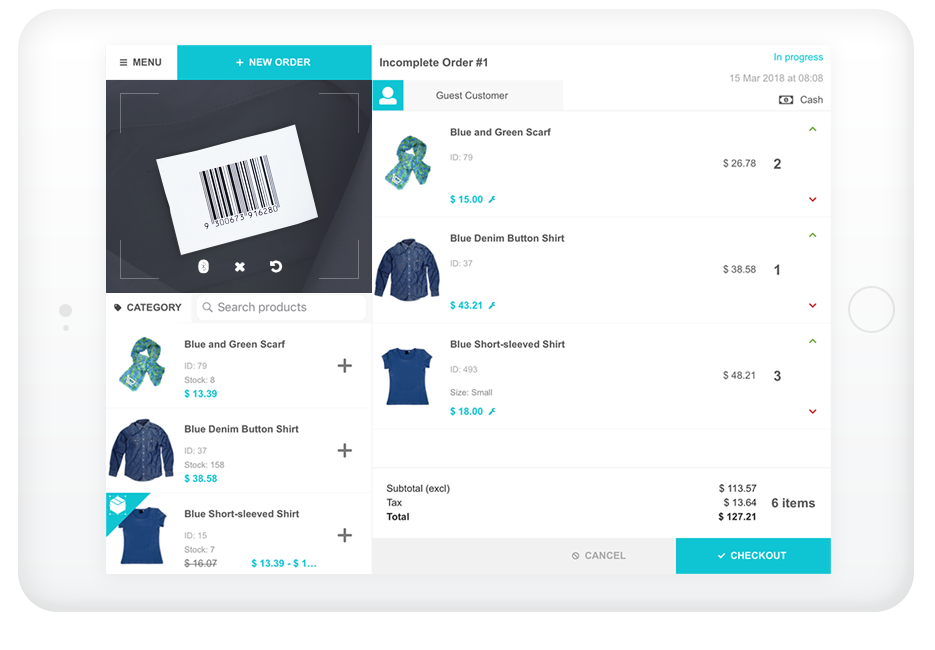 Frequently Asked Questions
Ask us a Question
Please visit our Knowledge Base before logging a support ticket for the fastest possible resolution time.
Query response time is usually within 48 hours of receipt (Monday – Friday excluding certain public holidays).
1. Sign-up, it's free
Sign-up and start selling. No credit card required.
Sign-up now
2. Install the free plugin
Install and configure the FooSales WordPress plugin on your website.
Download the plugin