WooCommerce automatically sends an email notification to your customers when they purchase an item from your online store. For many stores, this order alert is the main method that alerts them to new orders. This does, however, mean that you need to regularly check your email at your desk or on your phone which is not ideal. Order emails are also easily lost among other emails and are hard to keep track of.
Over the past few months, we've rolled out loads of new features that make FooSales POS one of the best ways to manage the fulfillment of online orders. We introduced the ability to change order statuses, continue online orders in your store, and view order details such as shipping information, billing details, and order notes. With everything you need to manage your orders already in place, the only thing remaining is to make sure you don't miss a new order. With that in mind, we would like to introduce FooSales Order Alerts.
What are order alerts?
You can now set the FooSales POS apps to automatically display an order alert when an order is placed through your website or another FooSales POS device. Order alerts can be set to display based on an order's status or shipping method and can be used to alert your team that an order needs to be prepared for collection or delivery.
Online orders
Alerts can notify you or your team when a new order is placed via your website. This is ideal when preparing orders for delivery or local pickup. In the FooSales plugin settings, you can set the order status/es and shipping methods that should trigger an order alert. When a customer creates an order on your website, it is sent to the FooSales apps, which then checks if an alert should be displayed based on the order status and shipping method. Here are a few examples of how order alerts can be used for online orders:
Restaurants & food trucks – View order alerts for takeout orders (local pickups and deliveries) and automate communications using custom order statuses (i.e. 'Ready for collection').
Retail stores – View an alert as soon as an order is placed online and stay on top of your fulfillment process. You can even disable alerts at the storefront and only receive them at your storage facility, back office, or warehouse facility.
Manufacturing – View order alerts in your workshop area as soon as they are placed online. Using custom order statuses, you can use FooSales to keep track of each order's progress and automatically notify your team or customers when the manufacturing process is complete.
Schools and universities – Turn your school's WooCommerce store into an omnichannel order management system using FooSales. Accept online orders for books, uniforms, and stationery, and use FooSales Order Alerts to make sure your team prepares orders for collection in record time.
In-person orders
You can use FooSales order alerts to notify internal teams that action is required. For instance, should you use FooSales at your storefront, you could use order alerts to notify your team at your warehouse or storage facility that a customer has placed an order and it needs to be prepared for collection. To do so, you could create a custom order status called 'Prepare order'. When the order is placed at the register, the cashier could set the order status to 'Prepare order' when the customer has completed payment. The POS in the storage or preparation area will then show an alert that they need to prepare the order for the customer. When complete, they could even change the status to another custom status such as 'Order ready'. This would then alert the cashier at the storefront that the order is ready and the customer can pick-up the order from the collection area.
Snooze alerts
You can also snooze an alert using built-in time intervals. This is handy on busy days when you might not be able to immediately attend to a new order and would like to be reminded later. You can 'snooze' orders for a set period of time. When the time has elapsed, this previously snoozed order will display along with any new orders that were received while order alerts were snoozed.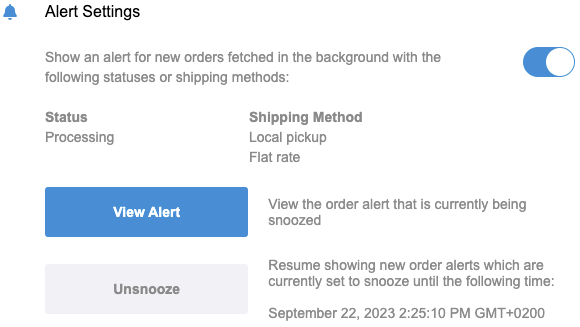 Snoozed orders can also be viewed in the setting area.
What's next?
Next, we week will be working on a new split payment feature, so if you would like to be notified when this update is released, please sign-up here.
If you are new to FooSales and would like to take a closer look, Sign-up for a 7-day free trial to get instant access. It only takes a few minutes to create an account and requires no credit card or billing details.